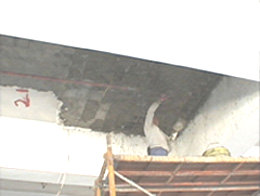 Concrete repairs is a common phenomenon to the building especially the aging one in which the concrete tends to decay with cracking, spalling and rusting of steel reinforcement. The causes of the concrete deterioration are varied. They may be the concrete mix itself during construction or overloading of the structures. Anyway, the erosion of steel bars by ingress of water or carbon dioxide in the air through the cracks on the concrete is one of the most typical causes to spalling concrete. If the defects are not properly rectified, the structures will suffer more cracking and spalling that leads to safety problems eventaully.
Damaged concrete should be repaired in a professional manner with general procedures recommended as follows:
1. Diagnosis of the causes of damaged concrete.
| | |
| --- | --- |
| | If the reason of the damaged concrete is due to the leaking water through the crack to erode the steel bars, the source of seepage and the crack should be correctly rectified. |
2. Preparation of concrete surface and steel bars.
| | |
| --- | --- |
| | All spalling concrete should be hacked away to a sound and stable substrate. Also, it is important to chisel concrete down to the back of the steel bar to make good anchorge for receiving mortar. For a bulky affected area, wooden framework is required to erect for mortar grouting. |
| | The rusty on reinforcement steel bars should be brushed away and properly protected by rusty-proof primer or simply cement additive slurry. The serious damaged steel bar should be replaced. |
3. Surface priming and application of concrete repair mortar.
| | |
| --- | --- |
| | thoroughly damp all concrete surface and brush up cement additive slurry as primer. |
| | when the primer become tacky, apply cement additive mortar in proper proportion mixes or prepacked concrete repaired mortar. The thickness of application depends on the properties of the repaired mortar, generally ranging from 15mm-50mm. |
| | the surface of repaired area should be flat troweled with cement additive mortar in 1:1:1 cement : sand : cement additive. For better surface treatment, a coating of anti-carbonation may be applied. |