PU CLEAR
Polyurethane Clear Coating
General Description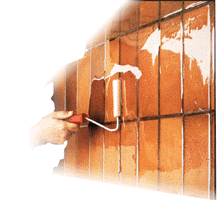 Acrylated polyol/isocyanate cured two pack polyurethane resin clear coating incorporating premium grade weather resistant pigments.
Uses
As a protective clear top coating for multi-layer coating systems such as Eleganstone, Elegance Tile, Granipastel etc. Suitable for internal and external use.
Area of Application
Suitably primed surfaces of concrete, plaster, masonry brickwork, wood, metal, GRC panel, PC panel, hard and soft boards etc.
Characteristics
| | |
| --- | --- |
| | Highly resistant to acids, alkalis and chemicals. |
| | Excellent gloss retention. |
| | Forms a tough film that has good abrasion and scratch resistance. |
| | Highly resistant to stains and contamination. |
| | Excellent weathering resistance especially against ultra-violet rays. |
| | Good resistance against water penetration. |
| | Algae and fungus resistance. |
| | Washable. |
| | Easy workability. |
Color Availability
Clear
Technical Data
Finish
 
High gloss or 30% gloss
Specific Gravity
 
0.98±0.05
Flash Point
 
Approximately20℃
Drying Time(at 30℃)
Surface Dry

Hard Dry

30 minutes

1 hour

Shelf Life
 
Up to 6 months of stored in tightly sealed containers
Pot Life
 
4 hours
Film Thickness
Dry Film
35-45 microns
Solid Content
 
40±3%
Viscosity
 
150±100ps/30℃
Application Data
| | |
| --- | --- |
| Surface Preparation | Surface shall be dry and free from dirt, dust, oil, grease and foreign matters. Surface unevenness, cracks etc. shall be made good with our cementitious filler. |
| No. of Components | Two |
| No. of Coats | Two |
| Coverage | 0.30-0.40Kg/m2 |
| Mixing Ratio | Base:Hardener-10:1 |
| Dilution | 30-90% with Urethane Thinner |
| Overcoating Interval | 2 hours |
| Method of Application | By spray, roll or brush |
Packing Style
| | |
| --- | --- |
| | PU Clear 16.5kg/set |
Base 15Kg
Hardener 1.5Kg
| | |
| --- | --- |
| | Urethane Thinner 16litre/can |
Material Handling
It contains volatile and inflammable solvents and must not be used near naked flame, welding operation etc.

Ensure adequate ventilation during application.

Avoid contact with skin or eyes. Any skin or eye contamination should be washed immediately with plenty of water and seek medical treatment.

If swallowed, seek medical advice immediately. Do not induce vomiting.

Store materials in a cool, well-ventilated and dry place, away from direct sunlight.

Keep away from heat sources.

If an alternative thinner is used for dilution other than our recommended thinner, we will not be liable for any complications of defects arising from the usage of this material.
Note
The above technical information/values are given to the best of our knowledge based on laboratory tests and practical experience. However due to different application, site conditions and constraints which are beyond our control, we are not liable for any circumstances due to or relating to the application or usage of our products. We reserve the right to alter or modify any data given without any prior notice, therefore it is best to contact us should you have any doubts or enquiries.