We specialize in offering effective and efficient waterproofing solutions
We specialize in waterproofing application, not simply the choice of materials but also the workmanship to solve the problems effectively. With more than ten years practical experience, we have gained our reputation in the fields of building construction and properties maintenance. Our philosophy is to provide good services and be responsible to our customers in long term basis.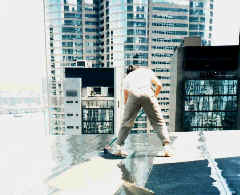 Beside directly common application of waterproofing materials onto the positive side of water seepage, we may have to undertake the waterproofing work on the negative side where the water is seeping through the crack and honey comb. The most effective solution is the epoxy injection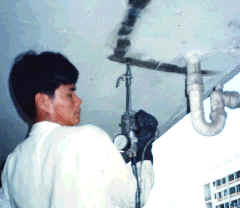 to fill up the void and crack in concrete, maintaining the integrity of the structural as before. Except the situation where the water is seeping ceaselessly, we will inject water-reacting foam to stop it from ingress temporarily and then further apply a layer of waterproofing materials on the top of it. For all the methods of waterproofing works, skills and special machinery are essential. We have sufficient skillful labour and precise machinery to cope with.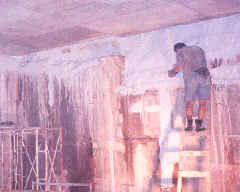 To a certain extent, seepage is inevitable in line with the aging or structural movement of the building. Typically, basement, concrete joint, hairline crack, pipe holes, window openings etc. are the most likely weak points that water seepage will occur. No matter it is a new construction site or an occupied premise, we have much experience in solving these problems effectively.

To enhance our services, we welcome you to seek for our
Please feel free to call us

or for exchange of idea and request of more information on our scope of services.
| | |
| --- | --- |
| | General application to cope with the common defects but not limited to our scope of supply for all the applications. |
| | With a view to expressing our knowledge about waterproofing works in different perspectives. |
| | Providing consulting services to solve the water seepage problems and a place to those interested party to express views. |
| | An easy approach to "Do-it-yourself" on general common defects and precaution for water leaking problems. |
| | Chinese version (not for all). |
Internet Explorer 4.0 or above is recommended for browsing.
Hong Kong Office : Room 11, 12/F., New Tech Plaza, 34 Tai Yau Street, San Po Kong, Kowloon, Hong Kong.
Tel: (852) - 2804 2208 Fax: (852) 2529 7226
Hong Kong Shop: G/F., Kam Sek Building, 78 Stone Nullah Lane, Wanchai, Hong Kong.
China Shop : 3034 Bei He Road, Fu Tin District, Shenzhen City, China.
Tel: (86) - 3377845 Fax: (86) - 3377845
This page was last updated on 09/25/05.